The margin can vary from ten percent to twenty-five percent and there are various ways for a home buyer to achieve the same. The loan amount does not get sanctioned for the entire amount of the property that the homebuyer is buying. Moreover, the lenders are not allowed to take into account the stamp duty and registration charges, while computing the cost of the property.
The first way for the home buyer to raise the margins is by liquidating the past savings or they may also take a loan against the securities. This is the main source to finance margin money for most of the home buyers. There may be different forms of savings which include fixed deposits, funds in bank accounts, investments, mutual funds etc. which can be easily liquidated as per the requirements of the homebuyer. There are times when the prices of your investment in shares or mutual funds may not be good in the market. In this kind of a situation it is advised that one should try the overdraft facility against the security of assets or may avail a loan instead of selling the assets at a low price. This should also be kept in mind that not all shares or mutual funds qualify for the overdraft facility. There is generally a list of shares or mutual fund schemes with the lenders which they can lend.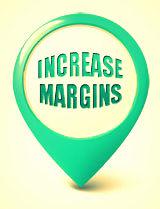 The second way to increase margins is to take a loan on your life insurance policies. If the insurance policy is not pure term plan, then one can get a loan against it which is of course subject to some conditions. To buy a house EPF and PPF funds can also be used. If five years of contribution to your provident fund is done, then the rule allows you to partially withdraw money from the account.
As a last resort, to fund your margin money one can also take a personal loan. The timing of the loan should be decided with a lot of care in this case. If you have availed of the personal loan before the home loan, your personal loan will reflect in your credit report and this will impact your home loan eligibility, as the home loan lender will take into account the EMIs of your personal loan. Any default in the payment of the EMI's affect the credit score strongly.
The Arthah, by Thapar group is a residential project based company in the real estate industry. They help you buy a property which imparts meaning to life. The Arthah provides amenities such as modern wooden flooring, convenient modular kitchen, high end bathroom fittings, split level parking spaces and much more. The main focus of this project lies in providing quality at best prices to the home buyers.
For any other query contact us on 8800688677, 8800688166 or thearthah@thaparindia.com